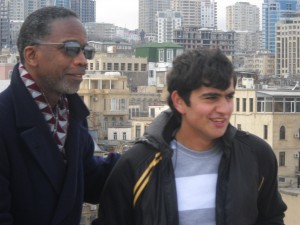 Arriving in Baku, Azerbaijan on behalf of the international Organization of News Ombudsmen, with days full of media meetings lined up, I had figured on spending my evenings pondering musical higher mathematics in what I'd heard were the city's thriving jazz clubs.
But my hosts, Taleh Shahsuvarli and Matlab Mutallimli, had mapped that part of my schedule too. Far beyond any of my expectations.
For example I  have arrived at the hotel, around midnight Baku time once again, after another full day on the road traveling from meeting to meeting. But the routine changed when yesterday's meetings concluded. One result: I awoke to breakfast this morning at a hot-spring resort; in a forest some distance from Azerbaijan's capital city; and had dinner in a family's garden in another forest, in the hills and mountains that separate this former Soviet republic from Iran.
It's all been a blur. Meanwhile, all the journalists and other Azeris I have been blessed to meet have been exceedingly gracious.
I plan to share much more about all this, including details of the media meetings, in subsequent posts.
For now, it's late (although we're nine hours ahead of folks back in the States), and I'm too beat to think.
But the Internet service that has proved problematic in past days is up. So here are more of the days' photos. (Viewers should be able to click to enlarge them.)