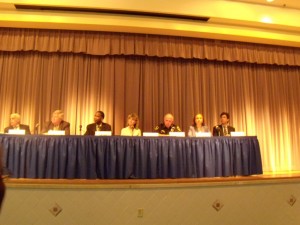 The view from here is: Yes. But I'm biased. It was my privilege to participate on the recent "Racial Profiling: Has Anything Really Changed?" panel hosted by Toward a More Perfect Union. The hope is that TMPU's initiative provided an opening for ongoing public discourse, and resolution, on this and other concerns.
On this occasion the tireless organizing of TMPU Executive Director Jane Tierney was rewarded in the support of nearly 20 endorsing organizations, agencies and  institutions. Several  hundred citizens participated on a Monday evening, September 14,  at the cozy Royal Palm Beach Community Center, in recognition of the concern.
Moreover, significant expertise was embodied in the distinguished panel members flanking me:
The Hon. Barry M. Cohen, County Court Judge, Fifteenth Judicial Circuit in and for Palm Beach County
Colonel Michael Gauger, Director of Law Enforcement Operations, Palm Beach County Sheriff's Office
The Hon. Carey Haughwout, Public Defender, Fifteenth Judicial Circuit in and for Palm Beach County
Chief Frank J, Kitzerow, Chief of Jupiter Police Department and Vice President of the Palm Beach County Chiefs of Police
Muslima Lewis, Esq., Senior Attorney & Director, Racial Justice and Voting Rights Projects, ACLU of Florida
The Hon. Michael F. McAuliffe, State Attorney, Fifteenth Judicial Circuit in and for Palm Beach County
For TMPU to have assembled such a gathering was an accomplishment in itself. Such outstanding community involvement underscores the commitment that is crucial if apathy isn't to continue contributing to smoldering angst.
No one seemed to have arrived with pollyanna notions that a single discussion would deliver  the consensus, much less the follow through, needed for resolving this issue.
There was, however, some initial defining of terms. And a few of the debate's significant fault lines became glaringly apparent.
ACLU attorney Lewis laid the foundation for an excellent discussion. First, by asking a show of  audience members' hands indicating whether they had been profiled — as many as a quarter, by my estimate. Then by citing what she called the constitutional, internationally recognized and fundamentally human right of everyone not to be profiled. Yet Ms. Lewis also documented a clear increase in profiling, and said she hoped we would get to talk about why.
Judge Cohen stated that "Anybody who denies the existence of racial profiling in Palm Beach County is blind." He repeatedly criticized legal decisions and law enforcement practices that he said routinely turn minor traffic stops into major investigations. The judge called the war on drugs as "one of the largest contributors to how minorities are treated in this country."
Among other comments, Jupiter's Chief Kitzerow emphasized that the uniform he was wearing represents the trust that the public relies on, for example when our children need protection, and the fact that "We're willing to risk our lives to do it."
"The big issue is finding common ground," the chief said. That includes a recognition that "racial profiling is wrong, it is inexcusable, and totally contrary to what I have spent my entire life representing and the values we enjoy." He too expressed an interest in hearing ideas for "how to bridge these gaps," adding, "It comes down to communication."
State Attorney McAuliffe minced no words in stating that the "downside of profiling far outweights the upside. It is not effective, it's not smart law enforcement and it doesn't work. I reject it, as I know my colleagues do," said the former federal prosecutor, citing "vast improvement" in the last 20 years.
Ms. Haughwout agreed there has been progress, but said "We've stepped backwards." A bigger problem is profiling that is "unintentional, less conscious," based on our backgrounds and experiences that inform our judgments, she said. She also perceived "less respect for the privacy interests of the poor and people of color."
Col. Gauger affirmed that the sheriff's department is a strong advocate for community policing. He specifically recounted success in West Palm Beach's Dyson Circle neighborhood. "We rarely read about that" and "all the good acts done by police officers every day," he said. "The police cannot do it themselves," he added. "It requires you to work with us."
In contrast, Judge Cohen cited a trend of jurors giving less weight to the testimony of police officers, and an increasing percentage of people expressing negative opinions of police officers. He cited the need for statistics rather than anecdotes to document profiling. With the ACLU's Lewis affirming that data collection is critical, there was concensus among panel members and in the room to make that a priority.
The program moderator, Palm Beach Community College Professor of Speech Communication Professor Victor Gent, did his best in the limited 7-8:30 p.m. time. It might take some of the burden off the next moderator to compile some succinct questions regarding what people want to learn from law officers, for example.
But one cannot credit TMPU enough for its heavy lifting on this. There's good news in the organization's plan to follow up, as Ms. Tierney said during her welcome, with dialogue and listening sessions addressing community members' need to tell their stories, and also to survey of what others around the country are doing on this issue.
Along with the myriad follow-up possibilities, there's more good news in the panelists' commitment to continue their involvement.
TMPU especially deserves credit for trying to help our community move beyond the easy stage: rehearsing the problem. A new compilation of profiling anecdotes can bring more truth on board, for example, but not much reconciliation. Similarly, stating that profiling is wrong, and stopping there, is as easy as for law enforcement officials to say they don't do it.
To offer some hopefully construction criticism: My sense is our panel discussion really didn't get beyond monologue to conversation.
Nor  did we accomplish enough audience involvement by having the conversation leavened with a significant number of their questions.
Perhaps most important, we did not get to the discussion of how to resolve the conflicting perspectives on this issue. There is where I mainly had hoped to contribute, as a longtime former news ombudsman steeped such in community concerns.
The reality is that significant representatives of our law enforcement community were on hand, able to address their specific policies and perspectives, and expressing interest in hearing community members recommendations. Several audience members later told me they would have appreciated more of that.
There also were missed opportunities for our local news organizations.
Past practice for newspapers, for example, assuming interest in such an issue (not always a given, even with a major news peg such as the Gates incident), might have been interviews of relevant folks for a feature story. Other papers might not touch the subject then because, well, it wasn't their idea.
Today, print and broadcast media easily and inexpensively can host a conversation with a credible panel such as this one, and with discussion informed by community questions via multiple technologies, then not only present the conversation live, but archive it for 24/7 access worldwide.
Unfortunately, as too often is reflected in the scarce diversity among our newsrooms, news staffs, news meetings, news desks, news anchors, etc., the issues that news decisionmakers don't have to worry about become the issues they do not care about. Meanwhile, new media applications for local concerns will continue thriving as our news organizations cling to old-school ways.
Back to our program: Afterward, an African-American gentleman brought to me the seemingly age-old question of "policing us or policing for us?" In fact, how to resolve that "us" versus "them" paradigm seemed to me the subtext of the evening.
As I mentioned in my brief comments on the panel, I think we're grasping for an elusive balance on profiling. Though difficult, it is not impossible to achieve.
Folks from here to Harvard recognize the recurring disconnect between those who function with the legal sanction of coercive power and those who act from a sense of powerlessness.
But while the onus always is on law enforcement officers who wield the levers of legal, if not always moral, authority, there's also the onus on us — particularly those of us who don't work within the law enforcement community — to make it our law enforcement.
I'm happy to say that's what most of the folks present for this program seemed determined to do.
A reminder that resonated from my colleagues on the panel is that much of the profiling problem stems from lack of familiarity with "the other." In the absence of such real knowledge, our human tendency is to make assumptions based on false images and false knowledge. Thus it obviously is a help for the different "sides," if you will, to glimpse the other's perspective, even if one can't walk in the other's shoes.
OK, having said all that, a disclaimer: None of these observations are to be confused with a "solution" to the profiling problem.
In fact, our president's experience is a sign of the patient perseverance that will be required to transmute the fears, the entrenched institutions and attitudes, the proprietary interests and benign neglect into the kind of community life our Creator has ordained for us but too many have given up hoping for, much less working for.
Similarly, we owe our children, and their children, and those who toiled and struggled before us, no less than our best effort on these problems.
That includes your constructive comments and suggestions, here, and at tmpu.org.
Toward a More Perfect Union can do it. And you can help.
–30–