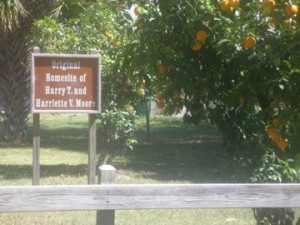 When I drive the two-lane roads between Florida's west and east coasts, I almost invariably think of Harry T. and Harriette V. Moore, of their courage in the face of racist terrorism, and of the horrible injustice done to the Moores, along with countless others, during the South's bombing-and-lynching era.
Yet as recently as 1999 my dear deceased Palm Beach Post colleague Michael Browning wrote a piece that questioned:
"Civil rights activist Harry T. Moore was murdered in 1951 because he'd become too successful at exposing injustice and getting blacks to vote; so why have we never heard of him?"
Unbeknownst to all too many, the sacrifices of the Moores, who were assassinated with a bomb exploded beneath their bedroom on Christmas night, are being recognized during the 7th annual Moore Heritage Festival of the Arts and Humanities.
The annual activities are focused at the Moore Memorial Park, Cultural Center and Museum in Mims. This year's include tours of the new Moore home replica. Other notable activities include the presentation of Moore Freedom Award, and educational symposia at Brevard Community College's nearby Titusville and Palm Bay campuses.
In his Ballad of Harry Moore, Langston Hughes masterfully captured the spirit of the Moores' day.
Each day I honor Mr. and Mrs. Moore in one of  the rotating photos on my CBHanif.com home page.
Last, for those who have not seen it and may appreciate, here is my 2006 Palm Beach Post column in tribute to the Moore family:
CARRYING HER HURT TO EDUCATE
C.B. Hanif
The Palm Beach Post
March 5, 2006
Imagine arriving in your small Florida hometown the day after Christmas to find somber family members waiting at the train station to tell you that your father is dead, your mother is in the hospital dying and your sister is near death with fright.
"It was devastating, and it still is," says Juanita Evangeline Moore.
Her parents, Harry T. and Harriette V. Moore, were assassinated when a bomb was exploded under their bedroom on the evening of Dec. 25, 1951.
The brutal cowardice was perpetrated on their 25th wedding anniversary, more than a decade before the murder of Medgar Evers, and almost two decades before the slayings of Malcolm X and the Rev. Dr. Martin Luther King, Jr.
In a time when terrorists were also bombing Catholic cemeteries, Jewish synagogues and Negro businesses, the Moores were among the first martyrs of the civil rights movement.
During "An Evening with Evangeline," last week, their surviving daughter spoke of how "my sister and I did a lot of hugging. Just hugging, and not saying a word."
She spoke of how they "made a pact not to cry at the funerals, because we were sure our parents wouldn't want it."
What a dignified and graceful woman, I thought, as she capped the first day of the third annual Moore Heritage Festival of the Arts and Humanities.
The festival, which my wife and I have attended since its inaugural year, commemorates Ms. Moore's pioneering parents and others.
It is hosted at the Moore Cultural Center, on Freedom Avenue, off Parker Street in Mims, and at Brevard Community College's nearby Titusville campus.
Ms. Moore spoke at the modern new center whose museum chronicles those times. Orange trees and a sign a few steps away mark the site where her home once stood.
She carries her hurt, however, not as a badge of honor, but to educate.
In fact, "Understanding Through Education" was this year's theme. One of the more encouraging aspects was the hundreds of high-school youngsters who visited the center and home site, or participated in the symposium at BCC on topics ranging from the Tuskeegee Airmen to Jackie Robinson's breaking of baseball's color barrier to the African and Cuban diaspora.
My own daughter told me that her take, as she and a friend arrived for Saturday's activities was, "Daddy must be in heaven."
Well, close. The festival's outdoor and family atmosphere is the kind I've appreciated at venues ranging from Belle Glade's old Muckstepper's Reunion to the Riviera Beach Jazz Festival.
Here, a distinguished panel and knowledgeable members of the audience had just shared a history of the African-American community of Orlando.
Now, I was back outside, a few feet from where history was made, enjoying gospel reggae and old school R&B and the young jazz group fronted by Bernard Kym Jackson, a 14-year-old saxophonist.
The recognition that the Moores' sacrifices represent not only African-American history but everybody's history is why blacks, whites, Asians, Hispanics and others also flocked to the four-day program.
Between the post-Civil War era, when blacks were deterred by every means from voting, and today, when blacks foolishly take the privilege for granted as much as any other Americans, there was a struggle that included Mr. Moore traveling the highways and byways of Florida registering more than 100,000 voters.
"He believed and understood that voting is one of the steps needed to live in a republic and a democracy," Ms. Moore said.
It was not the only thing that made him feared. He started the Brevard NAACP in 1934, when simply being a member was considered an act of defiance, and went on to build up the state NAACP. With his wife, also an educator, he fought for equal pay for black and white teachers, and against police brutality. He investigated for the NAACP every lynching in Florida.
The Moores' murderers — whose philosophical descendants conduct neo-Nazi marches and paint swastikas on homes in Florida — never were prosecuted.
That could change with the investigation Attorney General Charlie Crist began in late 2004. His "Harry T. Moore case overview" in this year's festival program concludes with, "Let me assure you good people the state of Florida intends to pursue this endeavor as a top priority and we will not rest until there is some closure for these martyrs."
Ms. Moore said when the FBI "started investigating on Dec. 25, 1951, by asking mostly about my dad being a communist, everyone knew it would be a bogus investigation."
It is reasonable to question whether gubernatorial candidate Crist's will be different.
"I know this time is different," she said, "in part because it is a murder investigation rather than whether my parents' civil rights had been violated."
She added that the Justice Department most recently said the case had been thoroughly investigated and the statute of limitations had expired. That elicited someone's incredulous, barely audible "civil rights had expired" statement which reached my ears from across the room.
"We will always miss them," she added. "But to find that some are actually learning and talking about their sacrifices touches me personally."
The festival committee (harryharriettemoore.org) again is focusing for next year on the third or fourth week in February.
But anytime is a good time to think about what we gained from the Moores rather than what we lost with them.