Some may say otherwise, but I'm here to say that the City of West Palm Beach did a good thing by instituting the "Community Chats for Action." It will be an even better thing if the project yields tangible results. I'm not alone in this sentiment: The small group in which I participated came away committed to continue meeting, and trying to make a difference, as individuals and together.
I should explain that the chats are a citywide dialogue toward building bridges across barriers of race, ethnicity and religion. The dialogues began at the city library auditorium Oct. 7, with a panel discussion and recognition of partner organizations, and wrapped up Nov. 17 with sharing and prioritizing of action items.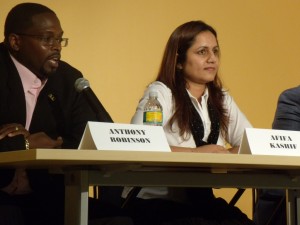 Over four weeks in between, for two hours weekly in groups throughout the city, residents exchanged thoughts and experiences, in a spirit of respectfulness and civility, with the help of facilitators who also are community volunteers.
My group was a fine mix of ethnicities and ages. I learned loads from them all. In a sign that our experience hardly could have better, I heard one of our elders tell the mayor our crew was "the best."
I had to miss the action items presentation, but expect to hear more about them.
After all the meetings of the choir of of the open-minded on these matters, an obvious item, as from the beginning, is how to engage what a member of my group termed the "Anti-Choir."