How serious are civic leaders in Selma, AL about a complete and accurate count in the 2010 United States Census? Serious enough to get state approval to close the historic Edmund Pettus Bridge.
The span, infamous for the vicious March 7, 1965 "Bloody Sunday" attack by state troopers on peaceful civil-rights demonstrators, only temporarily was indisposed at around 7 a.m. this morning, a Saturday. Police had alerted citizens to adjust their schedules or use a bypass route.
But the move was the latest step by the Alabama community's Complete Count Committee to help national and state officials recognize where some of the $300 billion in federal money to be allocated annually for the next 10 years should be invested.
Thus a diverse group of elected officials, business people, educators and religious leaders are saying to their fellow Dallas County residents: We need you to support the 2010 Census by sending back the 10-question form due to arrive in the mail April 1.
Jimmie Coleman III, a co-chairman for the committee, said "It was good to see the community coming together today on an issue as important as the census. Everybody is trying to build better relations. We're bridging a new way through the census count and how important it is to providing services."
Debra Reeves-Howard, a job developer in Alabama for 24 years who also works with the local Complete Count Committee, says that "At some point we have to stop reliving Bloody Sunday and move on."
Ms. Howard's comment came this week during a meeting of partners of the 2010 Census, hosted in Destin, FL by the Census Bureau's three-state (Florida, Georgia and Alabama) Atlanta Region. (Full disclosure: the Census Bureau covered the cost for me and other attendees.)
I was there as part of a group of African-American leaders and others who are active in their communities, and also census advocates who can help get the word out about the benefits, dispel myths and communicate the criticisms we hear.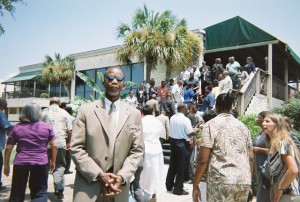 I plan to share more regarding the meeting as well as the ongoing census effort.
But the Selma-area leaders already get it. Ms. Howard told us "99 percent of our students are economically disadvantaged in our school system. How can they learn if they're not taught? The problem is we in the black belt have no money."
So the committee has gotten elected and school officials on board, she said. A former unused school campus building is now the U.S. Census Workstation, for anything from answering questions to Census job testing. Census job announcements are posted in schools and offices. Flyers were passed out at school graduations encouraging people to please send back their Census forms.
"I am excited about the Census 2010," Ms. Howard said. "It has set fire in my soul."
Perhaps other communities and their Complete Count Committees not need be as proactive.
Then again, given the economy and the desperate need across America, maybe they should.
They can start at:
or