It's that time of the year when seemingly everyone is happy to flee here from winter. This week, however, has been the coldest sustained in many locals' memory: Friday was the record-breaking seventh straight day of  below 50-degree temperatures at Palm Beach International Airport.
Meanwhile, the Forum Club of the Palm Beaches followed last month's capacity crowd, to hear National Urban League CEO Marc Morial, with an even larger 700-plus for U.S. Attorney General Eric Holder. The day was sunny and comfortable. No wonder the attorney general noted the irony of being thanked for leaving behind several inches of snow in Washington, D.C., to speak and answer a few questions here.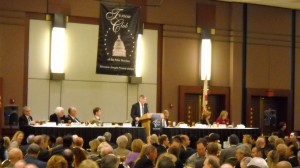 The nation's top law-enforcement official had a lot more to say, of course, mainly focused on combatting financial fraud. Here's the report by the primo political writer in these parts, my former colleague George Bennett of The Palm Beach Post. He also provided the advance text. In addition there's video from local WPBF-TV25.
Meanwhile, with kudos to the urbane Forum Club, and  its impeccable Executive Director Gayle Pallesen, here are more scenes from the Kravis Center luncheon: